I can't believe a week of May has already gone by!
I have so been enjoying this beautiful weather. Laundry has been on the clothesline almost every day and the garden has been planted some.
Let's see, this year we've got:
Okra
Cabbage
Lettuce
Radish
Beets
Carrots
Tomatoes, both large and small
Jalapeno- giant sized
Red and yellow lunch box peppers*
Red onions
Green beans
Potatoes
Green onions
*I'm excited the most about the red and yellow lunch box peppers. I'd seen some in the grocery store and they looked delicious, but I did not get any. So, when I saw these, I had to get some for our garden! I can't wait to snack on them!
Last year we planted two okra plants and had lots of okra to eat and juice. I really enjoyed okra carrot juice. This year, we planted three (or was it four?) okra. I LOVE okra. This year I plan to dehydrate some as well. I love dried crunchy okra. Like popcorn but better!
I'm still making project bags to send off as RAK's and for local knitting buddies. I sewed two this week and just waiting for the ribbon to go in them. I've got two more I will make next week at least.
Pictures of bags will post later as they are a surprise for the recipient!
I forgot, I made this one too. It has already been rak'd out, so here is the picture! It uses an entirely different pattern and is medium sized. I like it a lot!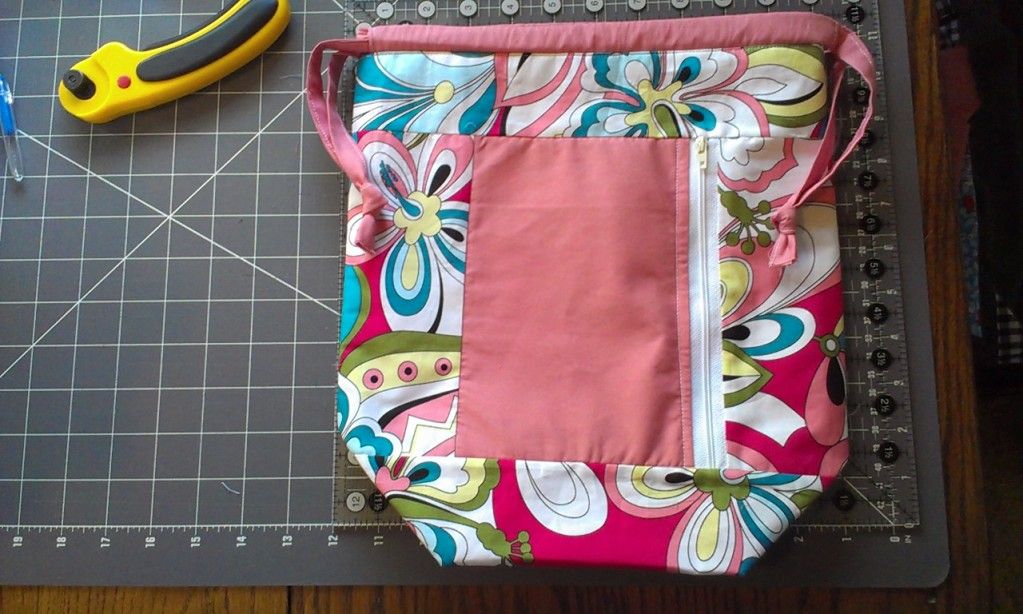 It's large enough to hold four skeins of sock yarn and one skein of worsted. In this case, Nature spun worsted.
These are the zippered pouches I made this week and last.
The first one is unlined but has interfacing. The second one has a lining but is made the same way. I just took a piece of material and held it in place as I made it, so I zig-zagged the edges to keep it from fraying. I'd like to try making some with laminated cotton that I heard about. And found a
source
! Yay! They have free shipping if you order $35 or more, so I'll wait until I can get free shipping. They sell my favorite Mary Engelbreit pattern too!
These zippered pouches are great for carrying some peppermints and driver's license in. Few bills and coins too. I plan to experiment with different sizes. I got the pattern from this You tube video.
Whitney Sews
is a great place to visit!
I love sewing boxy bags! I haven't made any in awhile because I was out of zippers. The quilt shop sells them for $1.25 while Walmart sells them for $1.47, that adds up after awhile. I've made about 2 dozen boxy bags within the last two months. ($30 spend just on zippers!)
So... when I was out at a garage sale with a friend and she led me to a box of zippers for 10 cents each!! I jumped for joy!!! I immediately started looking through the zippers trying to decide which ones to get.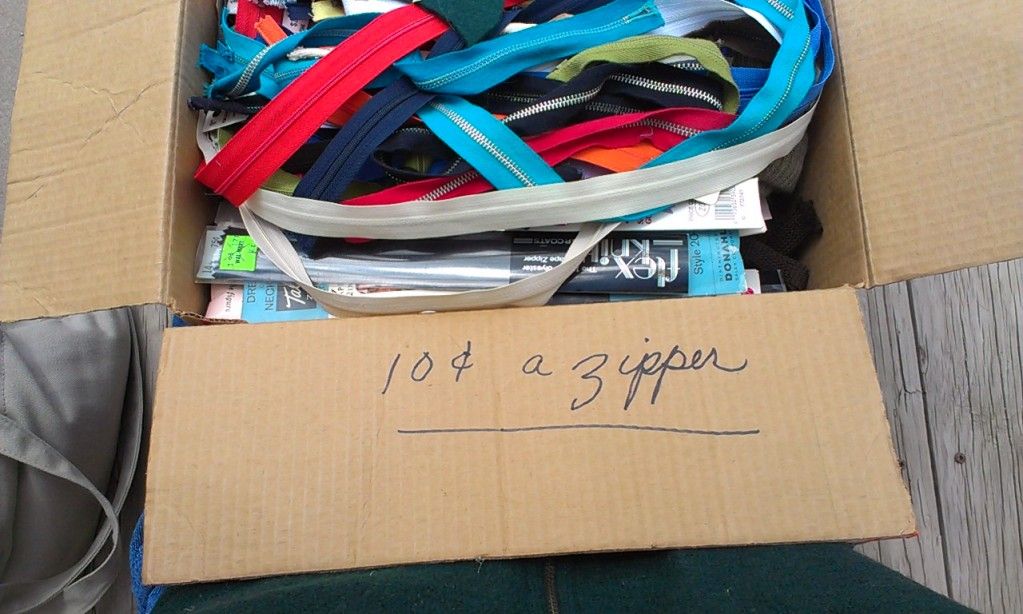 My friend suggested I see if they wanted to sell the WHOLE box for $4. So, I went and asked and they said, YES!!!! I was thrilled! I have enough zippers to last me a very long time. Of course, when I got home, I counted the zippers to see how many were in the box. Can you believe there were 117!!!! That's less than 4 cents per zipper! Wow! Most of them are still in their original packaging. They range in size from 6-22 inches. I use all different sizes in my projects. In fact, the second zippered pouch came from this box. That was one of my biggest garage sale finds of the day. The other big find was two new clip on lamps for the living room. The other two we bought new at Walmart have already melted. Yes, that's right. The plastic shades have holes in them from use. We moved one to the "shed" for lighting. The "new" ones have metal lamp shades and can hold a higher wattage. And they clip to the back ledge behind our chairs. They are great for reading by! (I've since made a commitment to buy used whenever possible.) A few exceptions but for the most part, I'd much rather buy a used item that was built better than a new one that is made to throw away!
Until next time!